Bitcoin Breaks $9,000 In Latest Landmark Price Point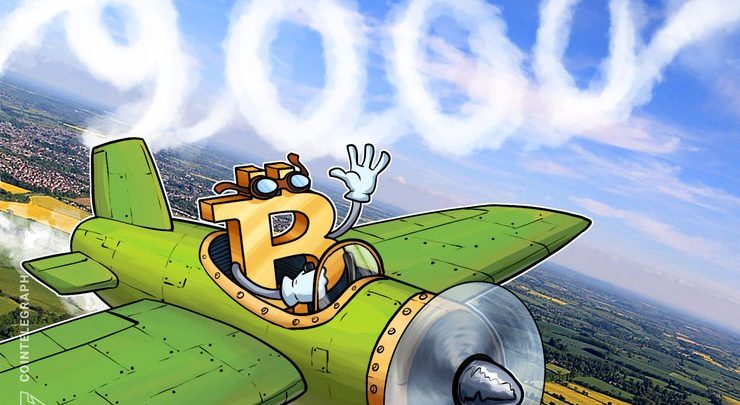 [ad_1]
Thursday, May 30 —  in the latest milestone of its renewed bull run, bitcoin (BTC) today broke past $9,000, soaring to its highest price point in over a year. Most of the top 50 cryptocurrencies are seeing solid green, as Coin360 data shows.
Market visualization courtesy of Coin360
Bitcoin broke the psychological price point of $9,000 earlier today, hitting a high last seen in early May 2018. To press time, the top coin is up 1% on the day and is trading at $8,802, according to CoinMarketCap data. In recent days, bitcoin had been comfortably trading in the $8,600-800 range.
On the week, the cryptocurrency's gains have surged to a bullish 14.5%.
Bitcoin 24-hour price chart. Source: CoinMarketCap
Largest altcoin by market cap ether (ETH) has seen a gentle gain of 2.25% on the day to press time to trade around $279. Ether has correlated with bitcoin's price surge, breaking above $285 earlier today. The altcoin last traded in a similar range in the first week of September 2018.
Ether has sealed a strong 16.7% gain on the week.
Ether 7-day price chart. Source: CoinMarketCap
XRP has reported a 2% gain on the day to trade at $0.46 by press time. The asset has seen positive upward momentum since May 27, and has capped a gain of above 21% on the week.
XRP 7-day price chart. Source: CoinMarketCap
Among the top ten cryptocurrencies at press time, seven are in the green. The three outliers — eos (EOS), litecoin (LTC) and native exchange token binance coin (BNB), ranked fifth, sixth and seventh largest coins by market cap respectively — are all reporting slight losses of below 1%.
A major outlier in a green direction is eighth largest coin bitcoin SV (BSV), which has seen an almost 11% gain on the day to trade at $201.78 to press time. Other top ten cryptos are reporting gains of up to 2% on the day.
The co-founder of cryptocurrency investment holding firm Primitive Ventures Dovey Wan has claimed that fake news circulating in China may be responsible for bitcoin sv's sudden recent price surge.
Widening out to the top twenty, two further coins are seeing red — dash (DASH), which has seen a negligible 0.2% loss, and iota (MIOTA), which has reported a more sizeable loss of 5.6%. The highest gain has been secured by 16th largest crypto cosmos (ATOM), which has surged 23.35% on the day to trade at $5.85 by press time.
Ethereum classic (ETC), neo (NEO) and nem (XEM) — ranked 18th, 19th and 20th respectively — have all seen above average gains, of 2.7%, 3.4% and 5.8% each. Other coins are seeing 24-hour gains of below 2%.
To press time, the total market capitalization of all cryptocurrencies is at around $277.87 billion — having brushed $286 billion earlier today — with bitcoin dominance at 55.7%.
Total market capitalization of all cryptocurrencies. Source: CoinMarketCap
In a tweet today, Shapeshift CEO Erik Voorhees contrasted bitcoin's price performance with the tulip bubble — which is usually cited as a pejorative comparison by cryptocurrency skeptics. Voorhees remarked:
"Tulips never re-emerged to hit new ATH's.  Bitcoin does it every couple years. Anyone equating the two needs to explain this discrepancy."
As Cointelegraph reported today, United States copyright archive data indicates that Wei Liu, a Chinese citizen residing in California, claimed copyright to bitcoin's (BTC) white paper on May 24.
In other crypto news, Russian-developed encrypted instant messaging service Telegram has officially released a test client for its Telegram Open Network (TON).


[ad_2]
Source link