Top-20 Coins Trade Sideways, Bitcoin Trades Around $8,200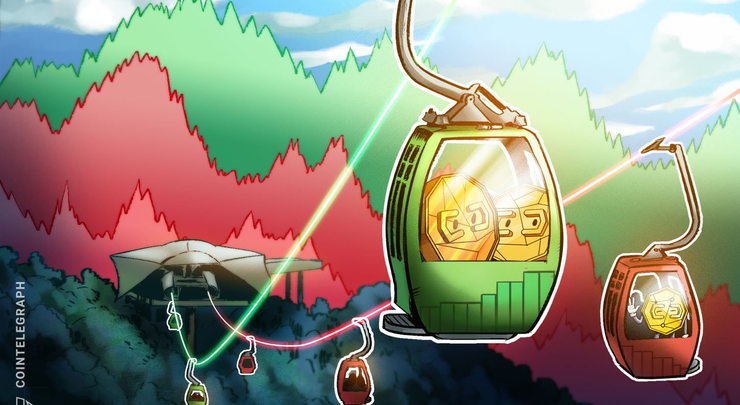 [ad_1]
Monday, Oct. 21 —  After turning green earlier in the day, cryptocurrency markets have been trading sideways, with Bitcoin (BTC) continuing to hover around $8,200, according to the data from Coin360.
Cryptocurrency market daily overview. Source: Coin360
The leading coin, Bitcoin, is down 0.39% over the past 24 hours and is trading at around $8,186 as of press time. In terms of its monthly performance, BTC is still down almost 19%.
Meanwhile, Bitcoin advocates continue to focus on the May 2020 block reward halving this week as the impact on price becomes more apparent. Some community members noted that next year's event will reduce the amount of new Bitcoin in circulation up to $63 million per week at current prices.
Bitcoin 24-hour price chart. Source: Coin360
Ether (ETH) is also trading sideways, down 0.06%. The leading altcoin is currently trading at around $174.53 in comparison to yesterday's high of $176.18, while its market cap is over $18.8 billion at press time. 
Ether 24-hour price chart. Source: Coin360
XRP has seen small gains of 0.28% on the day to trade at around $0.293 at press time. During the past day, XRP slumped to a low of $0.288 but soon began to recover. On its weekly chart, the second largest altcoin is down 0.25%, while on its monthly chart, XRP is up just 0.44%.
XRP 24-hour price chart. Source: Coin360
While most altcoins are seeing relatively mild gains or losses on the day, some outliers have broken upward. Bitcoin SV (BSV), Chainlink (LINK) and Cosmos (ATOM) are up by 17.74%, 10.10% and 4.25%, respectively.
The total market cap of all cryptocurrencies is currently over $222.2 billion.
Keep track of top crypto markets in real time here
window.fbAsyncInit = function () { FB.init({ appId: '1922752334671725', xfbml: true, version: 'v2.9' }); FB.AppEvents.logPageView(); }; (function (d, s, id) { var js, fjs = d.getElementsByTagName(s)[0]; if (d.getElementById(id)) { return; } js = d.createElement(s); js.id = id; js.src = "http://connect.facebook.net/en_US/sdk.js"; js.async = true; fjs.parentNode.insertBefore(js, fjs); }(document, 'script', 'facebook-jssdk')); !function (f, b, e, v, n, t, s) { if (f.fbq) return; n = f.fbq = function () { n.callMethod ? n.callMethod.apply(n, arguments) : n.queue.push(arguments) }; if (!f._fbq) f._fbq = n; n.push = n; n.loaded = !0; n.version = '2.0'; n.queue = []; t = b.createElement(e); t.async = !0; t.src = v; s = b.getElementsByTagName(e)[0]; s.parentNode.insertBefore(t, s) }(window, document, 'script', 'https://connect.facebook.net/en_US/fbevents.js'); fbq('init', '1922752334671725'); fbq('track', 'PageView');

[ad_2]
Source link