Iran's Crypto Barometer — Regular Users Feeling the Heat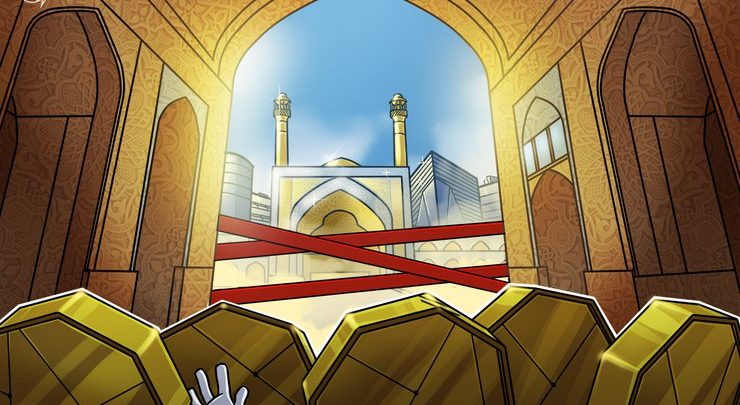 [ad_1]
Iran's plan to battle international sanctions through the use of a state-sponsored cryptocurrency has been brewing for over a year now.
It's been a viable and exciting option for a country that had been cut off from the global economic community up until 2015 and again in 2017, following a short reprieve after agreeing to dial down its nuclear energy program.
Despite all of this, Iran is still grappling with international pressures, including a ban on the acquisition of United States dollars in the country. American regulators are also looking to block the use of cryptocurrency as an alternate means for trade in Iran.
A changing stance toward crypto and blockchain
Iran has slowly changed its attitude toward cryptocurrencies over the past few years for a number of reasons.
Up until the beginning of 2017 the trade and use of cryptocurrency was of little to no concern to the regulating authorities in the country. In fact, data from May 2018 suggests that there has long been a voracious appetite for crypto trading in the country.
A major driving force for the adoption of crypto in the country was a decision in January 2017 to stop using the U.S. dollar in Iran. Driven by fresh travel bans imposed by the U.S. administration, the Iranian government looked to leverage the use of other stable currencies to continue foreign trade.
It didn't take long before bitcoin and other cryptocurrencies began being talked about as viable alternatives for the country's international trade. A few months later, the Iranian government revealed plans to roll out the necessary infrastructure to nurture the use of bitcoin in the country.
In the same breath, authorities hammered home the importance of imposing regulations to ensure that the use of cryptocurrencies remains above board in November 2017. The Central Bank of Iran (CBI) and related departments were already hard at work making sure that the use and supply of crypto in the country was being supervised.
Just four months later, in February 2018, local press reported that the CBI had made a U-turn in its crypto-friendly approach by announcing plans to control and prevent usage of cryptocurrencies in the country.
Less than a week later, news broke that the Iranian government was exploring the creation of a state-backed cryptocurrency. With that slowly simmering in the background, the CBI banned local banks and financial institutions from buying, selling or trading cryptocurrency in April 2018.
The explanation given for the ban was based on fears around the use of cryptocurrencies for money laundering and financing terrorism. While it seemed a crippling blow to the crypto community in the country, a government minister revealed that a model for a domestic cryptocurrency had been developed at the end of April.
The use of cryptocurrency to bypass international sanctions became more evident as reports surfaced that Iran and Russia were looking into the possibility of facilitating bilateral trade with the use of cryptocurrencies. The countries had begun engaging with each other to explore using cryptocurrency transactions as an alternative to the SWIFT interbank payment system — which Iran has had little or no access to due to the international sanctions.
Foundations were laid over the following several months on the proposed state-run cryptocurrency, and the country announced that development was complete in August 2018. The plans were expected to be formally released once the CBI updated its stance on the industry.
Around the same time, the U.S. reinstated sanctions on Iran, heightening the need for an alternative to facilitate trade with the global economic community.
A month later, Iranian government departments agreed to recognize cryptocurrency mining as a legitimate industry, with a legislative framework still to be developed by the Iranian National Cyberspace Center.
In January 2019, the CBI released a statement that cooled the fears of harsh sanctions toward the crypto sector in the country. The institution said it would consult crypto industry experts before finalizing new draft regulations for the sector.
Perhaps more exciting was the revelation that Iran was in talks with a number of countries around the possibility of conducting transactions using cryptocurrencies. The list included Switzerland, South Africa, France, the United Kingdom, Russia, Austria, Germany and Bosnia.
All of this was revealed during the annual conference on Electronic Banking and Payment Systems in Tehran. Nevertheless, Iran still has yet to unveil the full details of its proposed state-run cryptocurrency.
While Iran's state-run cryptocurrency still remains somewhat of a mystery, blockchain development has come to the fore in 2019. The CBI has begun work on a national blockchain project that promises to overhaul its banking and financial sector.
The Borna platform is being developed by the Iranian Informatics and Services Corporation and blockchain solutions provider Areatak. The Borna platform will be built on the Hyperledger Fabric — IBM's open-source enterprise blockchain solution.
Crypto sanctions to follow?
Unsurprisingly, parts of the international community have reacted negatively to Iran's moves to explore and develop a state-run cryptocurrency. Exacerbating this point were reports of significant crypto investments made by Iranian's in May last year.
In August 2018, the U.S. Financial Crimes Enforcement Network (FinCEN) called on the global community to monitor the use of crypto in Iran as an illegitimate means of bypassing sanctions. In essence, FinCEN was advocating for the scrutiny of any and all crypto transactions coming from Iran using a variety of intelligence and surveillance tools.
Following that, U.S. lawmakers went as far as introducing a bill looking to impart further sanctions on Iranian financial institutions as well as the development of its state-run cryptocurrency. The act would forbid transacting or dealing with any Iranian cryptocurrency, and sanctions would be imposed on any individual that does so.
This narrative and the proposed actions follow the aggressive financial sanctions coming out of America toward Iran over the past few decades.
Man down! LocalBitcoins ends trading support in Iran
As Iranians wait for clarity on the promised state-run cryptocurrency, local crypto users have been dealt another blow to their access to trading support. On May 24, popular cryptocurrency exchange LocalBitcoins announced a ban on users in Iran.
The decision was primarily due to the exchange's headquarters being located in Finland. In an effort to comply with financial regulations of the country, the exchange has had to cut off its user base in Iran.
Cointelegraph reached out to Iranian-based developer Arame Bandari, who previously worked as a researcher at Iran Blockchain Labs, for some insight on the current crypto climate in Iran.
Bandari explained that the last 18 months have been difficult for the Iranian economy due to the resumption of U.S. sanctions. As a result, the value of the rial, Iran's national currency, has declined, and people have looked to secure their capital by investing in foreign currencies or alternatives like the cryptocurrencies.
This is why LocalBitcoins' move to end customer support in Iran is a big blow to the sector. As Bandari explained, the exchange saw booming activity in recent months from its Iranian users:
"Localbitcoins is one of the most popular cryptocurrency trading platforms in Iran. According to Localbitcoins, in February during an eight week period of rapid growth, Iranians tripled their trade on its P2P platform. Nearly 34.56 billion IRR [$820,805] changed hands during the seven-day period, comprising the eighth strongest week on record when measured against fiat currency."
The platform was highly successful in Iran because of the variety of payment methods it offered to users. Given that Iranian's don't have access to international payment platforms like Visa and Mastercard, LocalBitcoins provided easy access to a global trading platform.
According to Bandari, underground crypto trading became popular, but users had to trust buyers and sellers who they met through Telegram channels and the likes. LocalBitcoins provided a safer solution that reduced some of the risk.
Despite the exchange imposing a fresh ban on Iranian crypto traders, Bandari was optimistic that other exchanges would come forward to provide continued support:
"At this moment Iranians have access to LocalBitcoins through VPN [virtual private networks] which is very common in Iran. But I think this kind of restriction will cause a significant migration of Iranian traders to other platforms. We have been witnessed such a migration when Bittrex and Binance banned Iranians. This will be a great opportunity for newcomer exchanges to grab the Iranian exiled traders community."
What are the alternatives for Iranian crypto users?
With the support of LocalBitcoins coming to an end, Iranian crypto traders will have to find other cryptocurrency exchanges to service their needs.
According to Bandari, the process is slightly more complicated due to the difficulty of converting Iranian rials into cryptocurrency. A popular way to do this is buying tether tokens (USDT) for rials through tether.land. From there, users can buy bitcoin and other cryptocurrencies, then proceed to trade using Bittrex or Binance through the use of a VPN.
Another source from Iran highlighted two more popular platforms that have stepped up to fill the void left by LocalBitcoins.
Multisignature peer-to-peer (p2p) bitcoin exchange Hodl Hodl has been identified as a preferred alternative. The website has even provided a translation of its page into Iran's dominant language, Farsi, and is offering discounted exchange fees up until mid-June this year. The website has also set up a dedicated Telegram group to communicate with Iranian users.
Another p2p exchange, keepchange.io, also reached out directly to Iranian cryptocurrency users through a blog post on Medium. It is offering users its services, as well as the ability to migrate trading data from LocalBitcoins to the keepchange platforms. Users can also access a "lifetime" trade bonus for referring customers to the exchange.
Waiting on Paymon to take off
There has been a "gold" lining for cryptocurrency adoption in Iran over the past few months, following a move to develop a gold-backed cryptocurrency in the country.
Four Iranian banks joined forces in February to spearhead the creation of PayMon — as the new token will be called. The project involves the Parsian Bank, the Bank Pasargad, Bank Melli Iran and Bank Mellat. Over-the-counter cryptocurrency exchange Iran Fara Bourse will list the cryptocurrency. It's understood that 1 billion tokens will be sold in the initial release, which has yet to be confirmed.
Amid the economic turmoil facing Iranians, the news is a welcome boon for cryptocurrency users in the country. Bandari told Cointelegraph that any viable and trustworthy blockchain-based cryptocurrency solution will provide much needed relief to Iran:
"In my opinion, at this stage national any kind of coin or token can help to deal with national payment system or economic problems. In fact cryptocurrencies like Bitcoin can not be used as an alternative payment method for massive intergovernmental trades, but it can be used for small businesses or merchants to facilitate payments which foreign parties."
Given that Iran has been facing harsh economic sanctions from the global community for some time, concerted efforts to nurture blockchain technology, coupled with a cautious approach to cryptocurrency regulation, are setting an interesting precedent.
While the everyday crypto user may face some tough times ahead when trying to go about daily trading, there seems to be a glimmer of hope that country will openly adopt and use blockchain technology.


[ad_2]
Source link