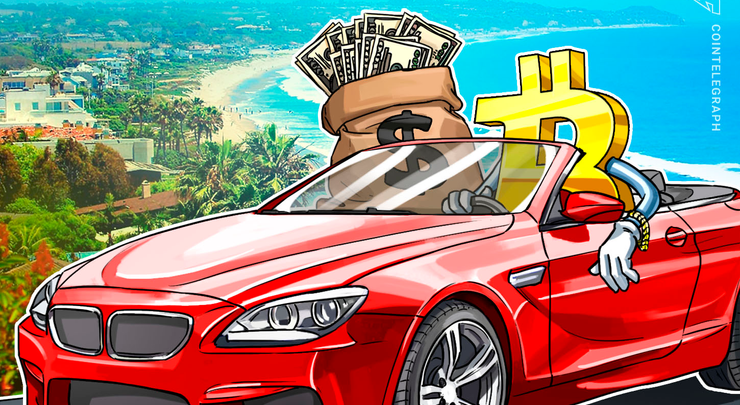 [ad_1]
The number of Bitcoin (BTC) addresses containing more than 1,000 BTC ($8.3 million) is growing at the same pace in 2019 as before 2014, new data shows.
Woo "super bullish" on wallet trend
Uploaded to social media by Bitcoin statistician Willy Woo on Oct. 11, a chart of Bitcoin address growth by balance shows the network is now repeating a trend from its earliest years.
Source: charts.woobull.com
"The rate of growth of 1000BTC addresses now matches the early growth in Bitcoin's network," he summarized.
Woo was expanding on original data from blockchain analysis resource Glassnode. 
According to him, fresh desire for major Bitcoin balances at vastly higher prices than five years ago speaks to wealthier individuals coming into the space.
If those generating addresses with over 1,000 BTC at that time were doing so out of technical curiosity, the incentives in 2019 are purely financial. Woo concluded:
"IMO we're likely in a new renaissance of Bitcoin, this one is powered by capital influx of high net worth investors, while the early one was from the tech savvy who were bootstrapping the network. Super Bullish."
Bitcoin rich list highs
The data suggests the trajectory of balances topping 1,000 BTC picked up at the start of 2019 after a period of flat growth, which began in late 2013 just prior to the implosion of major exchange, Mt. Gox.
As Cointelegraph reported last month, the number of addresses containing more than $100,000 has also hit an all-time high. 
At press time, 3,070 address held more than 1,000 BTC each, representing just 0.01% of the total, according to BitInfoCharts' Bitcoin Rich List. It should also be noted that many of the richest addresses — specifically the top four — belong to exchanges such as Binance, which hold Bitcoins belonging to millions of users.
https://platform.twitter.com/widgets.js window.fbAsyncInit = function () { FB.init({ appId: '1922752334671725', xfbml: true, version: 'v2.9' }); FB.AppEvents.logPageView(); }; (function (d, s, id) { var js, fjs = d.getElementsByTagName(s)[0]; if (d.getElementById(id)) { return; } js = d.createElement(s); js.id = id; js.src = "http://connect.facebook.net/en_US/sdk.js"; js.async = true; fjs.parentNode.insertBefore(js, fjs); }(document, 'script', 'facebook-jssdk')); !function (f, b, e, v, n, t, s) { if (f.fbq) return; n = f.fbq = function () { n.callMethod ? n.callMethod.apply(n, arguments) : n.queue.push(arguments) }; if (!f._fbq) f._fbq = n; n.push = n; n.loaded = !0; n.version = '2.0'; n.queue = []; t = b.createElement(e); t.async = !0; t.src = v; s = b.getElementsByTagName(e)[0]; s.parentNode.insertBefore(t, s) }(window, document, 'script', 'https://connect.facebook.net/en_US/fbevents.js'); fbq('init', '1922752334671725'); fbq('track', 'PageView');

[ad_2]
Source link