Japan's Transport and E-Commerce Partnership on the Fast Track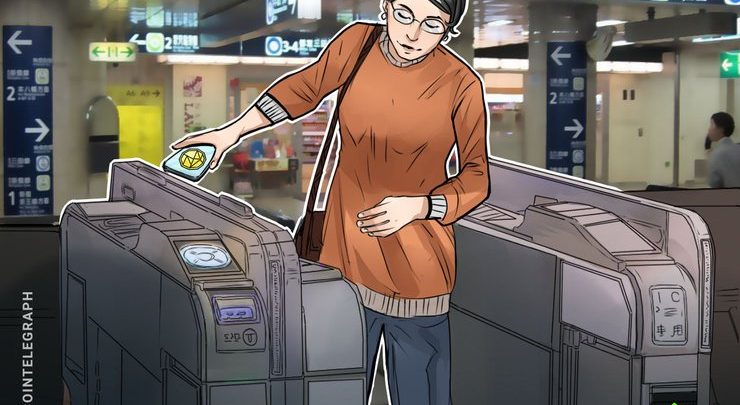 [ad_1]
The Japanese transportation industry is leading the country's long-standing efforts to go cashless. Earlier this month, two major players from the archipelago's e-commerce and transport industries partnered up to simplify and promote payments that do not require hard cash.
Homegrown e-commerce giant Rakuten plans to incorporate its services into Japan's premier railway firm, the East Japan Railway Company or JR East to provide electronic support for its "Suica" cards.
The cards are used to access trains as well as to pay for goods and services at certain kiosks in train stations and select stores around the country. If all goes as planned, users will be able to charge their transit cards using the Rakuten Pay mobile app by 2020.
There are some 5,000 train stations and approximately 50,000 buses in Japan, according to the government data. Currently, Rakuten Pay is used in more than 600,000 stores in Japan.
In a country with strong cultural affinity toward bills and coins, the latest move could bring about a huge change to the daily routine of Japanese commuters and possibly contribute to the country's push towards the use of cashless payment systems.
Cash is king
The latest data from Japan's Ministry of Economy, Trade and Industry (METI) shows only 20% of the country's population make a payment through cashless methods — a behavior Tokyo has actively been trying to change.
Back in March 2017, METI launched the "Cashless Vision" campaign to encourage its citizens to go try digital payments.
Two years after that, the Japanese government also published an updated copy of its Abenomics policy, named after Prime Minister Shinzo Abe, which reiterates the country's goal of achieving a cashless payment rate of 40% by 2027. Prime Minister Shinzo Abe
The main reason for this campaign comes down to the reluctance of the Japanese people to move away from using cash in their day-to-day transactions. Takeshi Tashiro, a visiting fellow at the Peterson Institute for International Economics, told Cointelegraph a number of socioeconomic factors have perpetuated the Japanese affinity of using cash.
"Japan's cashless payment ratio is approximately 20%. Some of the reasons are high reliability of cash, low theft and high security; as well as easy access to cash. Deflation might contribute to this trend as that increases the value of cash."
Another contributing factor is Japan's aging population. Over the past 40 years, the number of Japanese people over the age of 65 has nearly quadrupled.
"For more than two decades, Japan has had a 'graying population' due to both long-life spans and low birth-rates," a former United Nations official in Japan who asked to remain anonymous remarked in an interview with Cointelegraph. "Consequently, the elderly population tends to stick to the old habit of using cash; a habit learned from a time before cash cards, ATMs and credit credits were issued in the late 1980s."
The convergence of these factors, namely low crime, deflation, and an older population that are content to continue using cash have left the country lagging behind others that are quickly adopting a variety of digital payment options.
The partnership between Rakuten and JR East could be an important catalyst in the adoption of an intangible payment system and break down the cultural apathy toward it.
Topping up Suica cards with crypto?
In March, a number of publications speculated Rakuten Pay would consider incorporating cryptocurrency support on its mobile app.
Given the newly announced partnership with JR East, this could mean that Japanese commuters might be able to use cryptocurrency to top up their Suica cards from next year.
Rakuten Payment CEO Koichi Nakamura told Cointelegraph Japan last week that it could not elaborate on the incorporation of cryptocurrencies as a payment option but conceded the company had reached a point where a final decision needed to be made.
"At this very moment, there is nothing we can share with you as to crypto payments," Nakamura replied to an inquiry from Cointelegraph Japan, right after the press conference in which its collaboration with JR East was announced.
"But now we are in a phase where we consider whether or not we can use cryptocurrency as a source of payments," he continued.
The CEO highlighted two important considerations that would ultimately decide whether the company would include cryptocurrency support for the Rakuten Pay app:
"First and most importantly, the crypto related service has to be safe. It has to comply with proper regulatory frameworks. Second, it shouldn't be difficult for users to use. We aim for familiarity, convenience and comfort. I don't want that to be too difficult to handle from the beginning. You know there are still some people who think that smartphone payments are too difficult to use."
Rakuten is widely considered as the Japanese equivalent of Amazon, and its partnership with JR East would likely affect almost all Japanese commuters and online shoppers. Based on data from Statista, Japan's railways serviced more than 70% of the country's total passenger transport volume in 2016.
The e-commerce giant's position as a leader in its field gives it hefty clout in promoting the use of cryptocurrency as well. It is one of the latest companies to receive a license to operate a cryptocurrency exchange by Japan's Financial Services Authority.
Late March, the company announced it would launch its exchange, dubbed Rakuten Wallet, this month with account applications having opened in April. Rakuten had acquired the service formerly known as Everybody's Bitcoin in August last year for just over $2 million.
How does Japan stack up to its cashless promoting neighbors?
The strong cash dependency in Japan is in stark contrast to other countries in the region, especially its closest neighbors.
In recent years, South Korea has become a major hub for cryptocurrency trading, despite its government taking a tough stance toward the sector. The country has become famous for the "Kimchi Premium," referring to the fact that traders pay a much higher price for bitcoin compared to the price of the cryptocurrency on exchanges in other countries.
Even in the midst of a bleak cryptocurrency market over the past 18 months, a report suggested South Koreans were buying more digital currency in April 2019 than in previous years. The country's central bank survey revealed cash payments only accounted for 20% of payments made in the peninsula last year.
In his correspondence with Cointelegraph, Tashiro argued South Korea's advantage in this regard is mainly down to government policies that have promoted the use of alternative payment methods, in addition to the more widespread opinion of South Koreans' appetite for the fast adoption of new technology.
"Korea has one of the world's most widely used cashless payment systems, with its cashless payment ratio exceeding 90%. This is because, as a national policy, credit card settlement was promoted under the guidance of the national government, including deductions of 20% of the amount of income used by credit cards and obliging stores to use credit cards."
China is also on track to becoming a cashless society. This is largely due to the presence of two of the world's biggest companies, Tencent and Alibaba. The two tech giants enjoy a near monopoly on the country's messaging and payment applications, respectively dubbed WeChat Pay and Alipay.
By 2017, there were media reports that nearly three quarters of Chinese people were using digital payment methods over cash. Just to indicate how popular WeChat Pay had become, data from an Ipsos survey in the same year showed it had become the leading smartphone application for Chinese consumers to make payments with over 1 billion active monthly users.
China's mobile transactions were far higher than that of the United States in 2017, thanks to its 1.4 billion citizens. Last year, the U.S. population was recorded at 327.2 million.
By virtue of the sheer number of users in China, WeChat Pay and Alipay have expedited the country's transition from cash to digital payments, bypassing checks and credit cards.
Private sector as the key to Japan's move away from cash
Tokyo is making concerted efforts to encourage the development of new cashless payment services and their adoption by general consumers.
Ahead of the new sales tax increase this October, the Japanese government is taking steps to stimulate consumer spending. One of these steps is the provision of reward points of up to five percent on purchases made with cashless payments at small and medium-sized businesses. The incentive will be in effect for nine months to encourage Japanese consumers to try out the various cashless payment options available.
The partnership between two household names in Japan could give a major boost to the government's continued efforts to encourage its aging population to try new payment methods. Combined with the Japanese regulatory body's active involvement in cryptocurrency trade, 2019 might be the year when old habits finally give way to the change of times.
Hisashi Oki, Managing Editor at Cointelegraph Japan contributed to this article


[ad_2]
Source link