Telegram's TON Board Takes a Break, Removes All History From Channel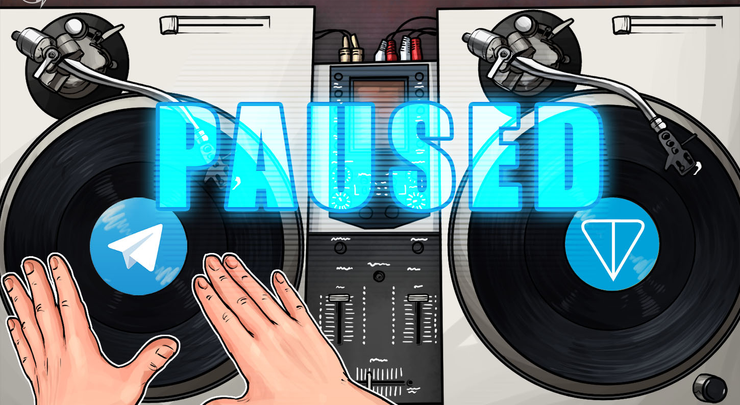 [ad_1]
Following a recent red flag from the U.S. regulators, a private Telegram channel for Telegram Open Network (TON) is taking a break.
Temporary halt for more clarity
On Oct. 12, TON Board channel on Telegram announced a temporary halt of work due to the increased level of regulatory uncertainty.
TON Board has also deleted all previous posts on its Telegram channel, making the latest announcement the sole post on the channel at press time.
As noted in the channel description, TON Board is a private channel created by investors and for investors in the TON as well as for future major holders of Grams. The channel has around 2,400 subscribers at press time.
In the announcement, TON Board stated that it is taking a break to analyze new information and adapt policies. The channel noted that they are planning to come back as soon as they have more clarity on the legal status of the TON and Gram, as well as an allowed type of analysis that may be published about them.
SEC flags Gram weeks before launch
The move comes after the United States Securities and Exchange Commission (SEC) abruptly announced that Telegram's $1.7 billion Gram token sale in 2018 was illegal. On Oct. 11, the regulator filed an emergency action and restraining order against Telegram and the TON in order to prevent the initial investors from being able to acquire Grams.
The regulatory announcement took place just weeks before the much-anticipated TON launch in late October, as officially planned by the firm. In preparation for the launch, Telegram released the terms of use for its native cryptocurrency wallet Grams Wallet on Oct. 8, noting that Telegram should not be used in jurisdictions where its services are prohibited by any applicable law, regulation or rule.
One day before the emergency action, major U.S. crypto exchange and wallet service Coinbase announced that it plans to provide its digital custody support for Gram as soon as it goes live. Previously, a digital asset custodian of software firm Anchor Labs declared that it will be the first entity qualified to support institutional custody for Gram, noting that the token will launch on Oct. 31.
window.fbAsyncInit = function () { FB.init({ appId: '1922752334671725', xfbml: true, version: 'v2.9' }); FB.AppEvents.logPageView(); }; (function (d, s, id) { var js, fjs = d.getElementsByTagName(s)[0]; if (d.getElementById(id)) { return; } js = d.createElement(s); js.id = id; js.src = "http://connect.facebook.net/en_US/sdk.js"; js.async = true; fjs.parentNode.insertBefore(js, fjs); }(document, 'script', 'facebook-jssdk')); !function (f, b, e, v, n, t, s) { if (f.fbq) return; n = f.fbq = function () { n.callMethod ? n.callMethod.apply(n, arguments) : n.queue.push(arguments) }; if (!f._fbq) f._fbq = n; n.push = n; n.loaded = !0; n.version = '2.0'; n.queue = []; t = b.createElement(e); t.async = !0; t.src = v; s = b.getElementsByTagName(e)[0]; s.parentNode.insertBefore(t, s) }(window, document, 'script', 'https://connect.facebook.net/en_US/fbevents.js'); fbq('init', '1922752334671725'); fbq('track', 'PageView');

[ad_2]
Source link