Top Stories, Price Movements, Quotes and FUD of the Week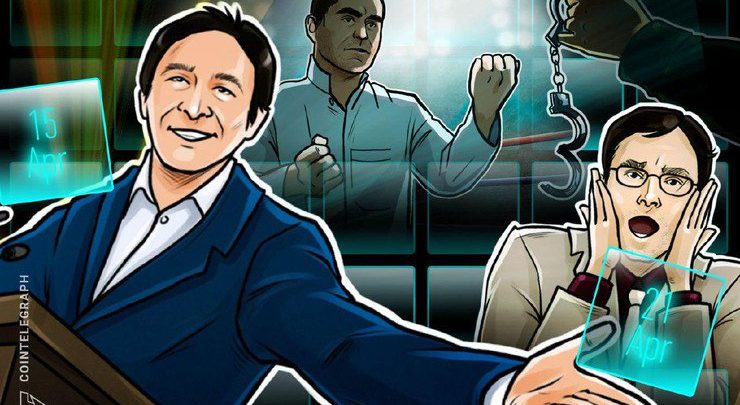 [ad_1]
Top Stories This Week
FinCEN Takes First Enforcement Action Against Peer-to-Peer Cryptocurrency Exchanger
In an apparent first, the United States Financial Crimes Enforcement Network (FinCEN) has given a penalty to a California resident who has been accused of wilfully violating money transmission laws as a peer-to-peer virtual currency exchanger. The department noted that the move marks its first such enforcement action, thus setting a precedent. The defendant — Eric Powers of Kern County, California — has been fined $35,000 and debarred from future work that qualifies as a money services business. The fine came from the determination that Powers violated his reporting obligations under the U.S. Bank Secrecy Act.
Self-Proclaimed Satoshi, Craig Wright, Sues Podcaster Peter McCormack for Alleged Libel
Craig Wright, the chief scientist at nChain and founder of bitcoin SV (BSV), filed a libel claim in the United Kingdom against cryptocurrency podcaster Peter McCormack. McCormack had previously accused Wright of fraud and falsely claiming to be Satoshi Nakamoto, the creator of bitcoin (BTC). In response, Wright's claim allegedly requests over $130,000 in damages, as well as legal costs and court fees. Earlier this week, Binance, ShapeShift and Kraken decided to delist BSV amid Wright's continued claims to be Satoshi, as well as his bounty offering in the search for the identity of the anonymous Twitter user behind the Lightning Torch.
French Gov't Minister Open to Enabling Crypto Donations for Notre Dame
Cédric O, France's Minister of State for the Digital Sector, said this week that he is open to accepting cryptocurrency donations for the reconstruction of the Notre Dame Cathedral, which experienced a debilitating fire last week. The donations for the medieval cathedral's reconstruction have already reached over $1 billion, while not yet allowing for donations in crypto. The official fundraising site is linked to four approved organizations, with Cédric O noting that the government is open to discussion on how to accept crypto to drive up the fundraising.  
Both BlockShow, an international blockchain event powered by Cointelegraph, and major crypto exchange Binance have launched crypto donation campaigns for the renovations.
Forbes Releases List of Billion Dollar Companies Using Blockchain
Financial news outlet Forbes released their "Blockchain's Billion Dollar Babies," a list of companies implementing blockchain technology that have minimum revenues or valuations of $1 billion. The list includes both companies in the crypto and blockchain development spaces, as well as larger companies in the traditional markets, such as banks and clearing houses, food companies and supply chain management firms. The list contains such household names as Amazon, Walmart, Facebook, ING, Mastercard, Microsoft and Nestle, as well as U.S.-based cryptocurrency exchange Coinbase, European mining and hardware firm Bitfury, and blockchain-based financial services network and XRP token creator Ripple.
Nestlé, Carrefour Work With IBM to Track Mashed Potato Brand With Blockchain
Switzerland-based food giant Nestlé, French supermarket chain Carrefour and IBM have partnered in order to use IBM's blockchain tech to track French instant mashed potatoes. Shoppers will be able to use their smartphones in Carrefour stores to scan the packs of Mousline instant mashed potatoes with a QR code and be able to see data on the potatoes, including the varieties of potatoes used, the date and place of manufacture, and their journey to the store. In general, around 5 million different food items already employ blockchain in their supply chain in some form.
Winners and Losers
At the end of the week, bitcoin is up, trading at around $5,348, ether at around $173 and XRP at $0.32. Total market cap is around $180 billion.
The top three altcoin gainers of the week are fivebalance, atlantis blue digital token and segwit2x. The top three altcoin losers of the week are cointogo, ezoow and robocalls.
For more info on crypto prices, make sure to read Cointelegraph's market analysis.
Most Memorable Quotations
"We have no idea what the extent of the malfeasance is on centralized exchanges. If we extrapolate from what we've seen on DEXes, it could well be on the order of billions of dollars."
Ariel Juels, professor at Cornell Tech
"We should let investors, companies, and individuals know what the landscape and treatment will be moving forward to support innovation and development. The blockchain has vast potential."
Andrew Yang, U.S. presidential candidate
"From day one, I've maintained the allegations are bogus, and they are of course. After their attorney was sanctioned and they were ordered to pay my legal fees twice, we recently reached a confidential resolution, and I'm dismissed from the case."
Charlie Shrem, in regard to the court case with the Winklevoss twins
"The digitalization will also create much needed synergies among the government organizations for ensuring friction-less service delivery and improving ease of doing business in the country."
Pakistani Prime Minister Imran Khan
FUD of the Week
ShapeShift to Delist Bitcoin SV, Kraken Considers Following Suit
This week, following crypto exchange Binance's announcement that they were delisting bitcoin SV, anonymous exchange ShapeShift has also delisted the currency, as well as Kraken. ShapeShift CEO Erik Voorhees posted on Twitter that the exchange stands with the sentiments of Binance and CZ, the CEO, in their decision to delist BSV following controversial claims from BSV founder Craig Wright over his alleged identity as Satoshi Nakamoto, as well as his public bounty to unveil the identity of anonymous Twitter user @hodlonaut. Shortly after, a community poll from Kraken led the exchange to also delist the altcoin.
Unocoin Reduces Staff by 50% Ahead of Indian Supreme Court Cryptocurrency Ruling
Unocoin, an Indian cryptocurrency exchange, has reportedly let go of half its staff, leaving the company with 14 workers. Unocoin cited regulatory uncertainty in the industry, noting that it made the decision concerning staff reduction ahead of an Indian Supreme Court hearing on cryptocurrency's legal status in India, set for July. Since the peak of the business, Unocoin has allegedly fired 80% of its staff, and the business operations are reportedly running off of capital reserves as executives await news about the future. The crypto industry in India is in the process of fighting the country's previous negative ruling on crypto dealings, in the form of a lengthy Supreme Court process.
U.S. District Attorney Indicts Three for Laundering Millions With Bitcoin
A group of individuals have been indicted by the Manhattan district attorney for allegedly selling drugs and laundering millions of dollars with bitcoin (BTC). According to Manhattan District Attorney Cyrus R. Vance Jr., with help from the U.S. Secret Service, the U.S. Postal Inspection Service and U.S. Homeland Security Investigations, Chester Anderson and his criminal accomplices, Jarrette Codd and Ronald Maccarty, allegedly operated dark web stores that sold and shipped hundreds of thousands of tablets of counterfeit drugs. According to the press release, the defendants laundered a reported $2.3 million in bitcoin by using preloaded debit cards and withdrawing cash at automated teller machines.
Best Cointelegraph Features
Young Africa Looks to Crypto for Payment
After noting that Lagos, Nigeria, is the number one city in terms of the volume of online searches for bitcoin, Cointelegraph checks out how Nigerians actually interact with the top cryptocurrency.
Craig Wright Continues to Chase His Critics as Major Crypto Platforms Boycott His Cryptocurrency, BSV
After this week saw a mass deslisting of Craig Wright's bitcoin SV, Cointelegraph examines what caused the crypto community's anger toward the self-proclaimed Satoshi Nakamoto.
Crypto Movie Review
In Cointelegraph's first-ever movie review, Emmy-award winning screenwriter Edward Zuckerman takes a look at the "Crypto" movie, finding (spoiler!) little to do with cryptocurrencies and a lot more to do with the Russian mob.


[ad_2]
Source link